Frankenstein Conquers the World

Japanese poster
Directed by
Ishirō Honda
Produced by

Tomoyuki Tanaka

Written by
Reuben Bercovitch


Takeshi Kimura

Music by
Akira Ifukube
Cinematography

Hajime Koizumi

Editing by

Ryohei Fujii

Distributed by
Tōhō
Released
August 8, 1965
Running time
93 min.
IMDb profile
JMDb profile
Trailer
Frankenstein Conquers the World (フランケンシュタイン対地底怪獣, Frankenstein tai Chitei Kaiju Baragon, aka Frankenstein vs. Baragon) is a 1965 Japanese monster film directed by Ishirō Honda.
Plot
[
]
In 1945 the Nazis transport the heart of Frankenstein to Hiroshima right before it gets bombed by allied forces. Years later the heart has somehow transformed into a feral boy with regeneration and growth powers. When a monster called Baragon attacks the city Frankenstein is initially blamed for the destruction, but his name is cleared when he comes to the rescue and the two giant monsters clash in an epic battle.
Cast
[
]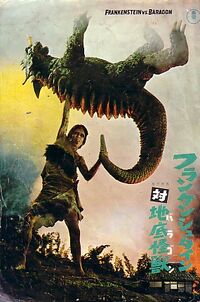 Tadao Takashima

... Dr. Yuzo Kawaji
Nick Adams ... Dr. James Bowen
Kumi Mizuno ... Dr. Sueko Togami
Yoshio Tsuchiya ... Mr. Kawai

Koji Furuhata

... The Frankenstein Monster
Jun Tazaki ... Military Advisor
Susumu Fujita ... Osaka Police Chief
Takashi Shimura ... Axis Scientist
Nobuo Nakamura ... Skeptical Museum Chief
Kenji Sahara ... Soldier

Yoshifumi Tajima

... Submarine Commander

Kozo Nomura

... Overzealous Reporter

Haruya Kato

... TV Director
Ikio Sawamura ... Man Walking Dog

Yoshio Kosugi

... Mountain Soldier

Keiko Sawai

... Kazuko, the dying girl

Noriko Takahashi

... Girl in Lodge
Peter Mann ... Dr. Liesendorf
Ren Yamamoto ... Bystander
Yutaka Sada ... Hospital Administrator

Hisaya Ito

... Osaka Police Sergeant
Kenzō Tabu ... Scornful News Editor
Shigeki Ishida ... Chuckling Scientist

Nadao Kirino

... Police Sergeant

Yutaka Nakayama

... News Cameraman A
Senkichi Ōmura ... News Cameraman B

Tadashi Okabe

... Sarcastic Reporter

Toshihiko Furuta

... Bystander

Kenichiro Kawaji

... Young Furankenshutain
Hideaki Nitani ... Hospital Official

Shin Otomo

... Policeman

Shoichi Hirose

... Tunnel Worker

Haruo Nakajima

... Baragon
Mie Hama ... Screaming Lady

Akira Takarada

... Baragon witness
External links
[
]