WORLD FILM MAGIC DISTRIBUTION
[
]
World Film Magic Company founder Jose Gonzalez CEO wanted to be a part of Hollywood. Movies excited him. He dreamed of creating a film production company. With support from his wife Sky Rodriguez and Budget Films he began exhibiting movies in 16, 35mm and video to hospitals, jails, cultural centers, schools and libraries. Their customers really enjoyed watching among newer titles, classics like "Gone With the Wind", "The Alamo", "CasaBlanca", "Ben Hur", etc. He thanks Albert Drebis, Bugtet Films president, for enabling him to create a profitable business and teaching him about the aspects of moviemaking. World Film Magic had been born. At one point Jose's collection consisted of 10,000 movie titles in 16 and 35 millimiters. When he worked as an editor for United Artists, his friend Esteban Jimenez and him started to think about seriously making movies. They began to put a team together that would not only share their dream and push along with them, but also who could bring their own talent and knowledge. Francisco Olea came to the group when the switch to producing came about. Ramon Alvarado joined afterwards completing a team that embodies a desire to succeed. The company started to produce some trailers,short films and videos. Ronald Chew, former lawyer was a key factor to impulse the company to a new level. From there they were able to work with major studios like Warner Bros., Universal, and United Artists securing distribution deals and the opportunity they have for producers of independent film and also bringing movies to Latin America. They are behind movies like Amores Perros, Bandido, Oriundi, Carga de Tunas, Reyna del Sur, Atrapemos a Bin Ladin, En Las Garras de La Muerte which have proven to be very succesful. After this period the company reinforced associations with companies like Imcine and churubusco Estudios, which brought Perfume de Violetas. Amores Perros and Perfume have garnered prestigious awards around the globe. Entertainment is an ever expanding industry and thanks to the advent of the DVD, movies have not only had a phenomenal life after theatrical exhibition but many films are produced solely for the increasing home video market that includes cable, satellite, television and the internet.
Now in stores, Love Takes Time received several film festival awards from around the world, impressive for a very low budget project with an all black cast which has been a commercial success. Also in the market, Los Tres Michoacanos, Sin Miedo a la Muerte, El Diablo de la Frontera, Los Dos Jefes in Five Seconds. Upcoming Chunky Monkey from England and Patrulla 81 from Mexico show the increasing quality of the films that have been acquired recently. Many of these films have been honored with Film Festival awards. Chunky Monkey did as well as Spider Man did when it came out in England. The dark comedy Monty Python style features many known faces from Brittish cinema. Patrulla 81 features the six Latin Grammy winning band from Mexico. The movie did very well in the film festival circuit particularly because of the great direction of Francisco Joel Mendoza whose other films produced by Cemex and Churubusco will also be distributed by World Film Magic. The company also has this upcoming titles programmed for the rest of the year: Una Adventura en Durango, The Legend of Marilyn Monroe, Un Secreto de Familia, and Los Tres Rayos. World Film Magic has collaborated with key industry professionals including Robert Rodriguez, Carlos Gallardo, Hugo Stieglitz, Ricardo Montalban's Nosotros organization and George Lucas. The company gets involved in the community by supporting youth in The Arts and Film making by working with local non-profit groups. By supporting the ECDC, the objectives will be to set up groups of counselors and tutors that will enable children to have access to a production team that will help develop their stories, talents and interests. By helping them utilize their creative imagination and serve as reflection of their political, socioeconomic and cultural environment the company can help create in them a national and global identity and respect for other arts and cultures. At the same time a wish to support education and literacy through the creation of an information and communications center that will serve youth in their artistic endeavors. As an incentive, there will be awards for achievement in the audiovisual arts including writing, music, acting, etc. which will help keep kids interested in healthy, productive and uplifting activities. Also, the promotion of film studies in children and to facilitate the necessary elements so that through prizes and help to the parents they can support film and audiovisual arts, so that their utilization, reflection and analysis can elevate the spirit and this way keep the child away from drugs and bad habits.
History shows that even during the depression, the world needed to escape and to continue attending the movies. Jose Gonzalez CEO believes entertainment in such form will never go away and will be a source for revenue even during hard times. Still, the statistics bear out the fact that the home-video market is booming business. According to figures compiled by Ernst & Young for the DVD Entertainment Group, 182 million movies and music videos were shipped at the beginning of this decade, a 90 percent increase over 1999. Consumer spending on video in 2000 was approximately $20 billion, while movie ticket sales were only slightly more than one-third that amount, at $7.5 billion. In fact, the top video title of 2000 -- Buena Vista's "Tarzan" -- grossed $268 million in video sales and rentals alone. That's $15 million more than the top movie of the year, Universal's "The Grinch," took home at the box office. In Commerce, CA, a 6.5?square mile town where Latinos make up 94 percent of the population, according to the latest census figures, Spanish-language films are high-circulation items at the four public library branches and all video stores. Home not only to new immigrants, Commerce also claims a good number of third- and fourth-generation Latinos of Mexican descent. Since the Latino population has levels of Spanish fluency that vary from no fluency to seamlessly bilingual to exclusively Spanish-speaking, video stores and library patrons enjoy all kinds of movies. But they especially appreciate subtitled films the entire family even grandparents can watch?
Just like the major studios like Warner Bros. or Universal have a product that reaches the world, the company acquires and distributes exclusive projects with full rights for worldwide distribution.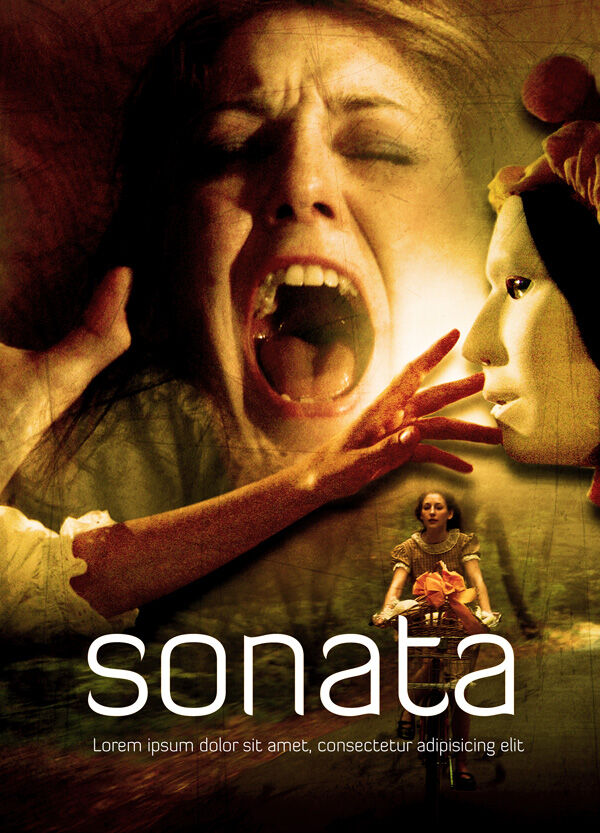 500px|left|SONATA

SONATA Coming 2010
[
]
The teenager Megan is a young woman raised completely isolated and dominated by her deranged and possessive mother, the writer Samantha Fergus. Megan lives her life as if it were a fairy tale and without sense of reality, having her education through home schooling with private teachers. When her hormones change her behavior, inclusive with sexuality arisen, she does not have any support from her mother, and she creates an imaginary friend to satisfy her repressed desires and leading mother and daughter to a tragedy. Winner of breakthrough performance, Gold medal for excellence,

independent spirit award and horror genre awards at:
-New York VisionFest -Park City Film Music Festival -Santa Fe Film Festival -ShockerFest

==
GREEN EYED MONSTER 2009

[

]
A group of friends searching for a cache of missing money instead discover something truly terrifying in this independent shocker inspired by Hispanic folklore. Convinced that there's buried treasure somewhere on his uncle's South Texas ranch, David talks his friends into grabbing some shovels, and digging their way to untold wealth. But what they find at the ranch isn't cash; it's something that's buried deep inside every one of us. Now, as the treasure hunters start to disappear one by one, it's only a matter of time before the monster among them finally reveals itself.
Jason Buchanan, All Movie Guide Winner of several awards and DVD buyers can also participate in a $10,000 dollar contest, visit our website for more information and to purchase the movie. www.worldfilmmagic.com