Woman Who Wets Her Fingers or Woman with Wet Fingers (美加マドカ 指を濡らす女, Mika Madoka: Yubi wo nurasu onna) is a 1984 Roman Porno film directed by Tatsumi Kumashiro and starring Madoka Mika.[1] After having left the studio to direct mainstream films at ATG, Toei, and Shōchiku, this film marked Kumashiro's return to Nikkatsu and the sex film genre. Like many of Kumashiro's films, this one concerns workers in the sex entertainment industry, specifically strippers.[2] Other Kumashiro films depicting the lives of strippers include Sayuri Ichijo: Following Desire (1972), Wet Lust: 21 Strippers (1974), and his directorial debut, three years before Nikkatsu's switch to the Roman Porno genre, A Thirsty Life (1968).
Bibliography
Edit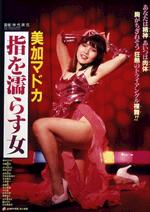 ↑ 1.0 1.1 "美加マドカ 指を濡らす女" (in Japanese). Japanese Movie Database. Retrieved 2011-01-31.
↑ Weisser, Thomas and Yuko Mihara Weisser (1998). Japanese Cinema Encyclopedia: The Sex Films. Miami: Vital Books : Asian Cult Cinema Publications. p. 514. ISBN 1-889288-52-7.
↑ "美加マドカ 指を濡らす女" (in Japanese). Kinema Jumpo. Retrieved 2011-01-31.
Community content is available under
CC-BY-SA
unless otherwise noted.